Michael Davenport | Eminent Domain Attorney Wilmington NC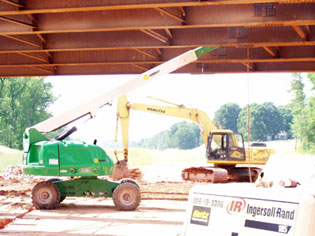 As citizens of this country, we are vested with a collection of "duties" and "rights". Eminent Domain involves one of our most important "rights"… A right so fundamental that it is found in the Fifth Amendment to the United States Constitution.

The Fifth Amendment provides, among other things, that:

"No person shall…be deprived of life, liberty, or property, without due process of law; nor shall private property be taken for public use, without just compensation."
"Eminent Domain" refers to the government's sacred, constitutionally-ordained power to appropriate private property for public use. Proceedings to take land under eminent domain are typically referred to as "condemnation" proceedings.
Usually, when a unit of government wishes to exercise its power of eminent domain and acquire privately-held land by condemnation, the following general steps are followed:
First, the State will attempt to negotiate the purchase of the property based upon its own appraisal, without a Court proceeding;
If the property owner does not wish to sell, the condemning governmental agency files a court action to exercise eminent domain, and serves process upon the property's owner(s) as required by law. The condemning governmental agency thereby obtains immediate legal title to the property at issue.
Generally, the condemning governmental agency must simultaneously deposit with the Court its best estimate as to the fair market value of the condemned property. This deposit is then made available to the property owner for withdrawal, without prejudice to the property owner's right to have the ultimate issue of "just compensation" heard by a jury of his/her peers.

There are three types of governmental takings which can occur through eminent domain:

"Complete Taking" - all of the property at issue is appropriated;

"Partial Taking" - the taking involves only a part of a parcel of property, such as the condemnation of a strip of land to expand a road. In these instances, the owner is to be compensated for both the value of the land taken, and any damage thereby caused to the remaining land (by its resultant proximity to highway, noise damage, loss of public utilities, diminished developability, etc.).

"Temporary Taking" - Part or all of the property is appropriated for a limited period of time. The property owner retains title, but is compensated for any losses associated with the temporary taking.

Condemnation proceedings are treacherous waters indeed, with our most fundamental rights at stake (to our very homesteads). Please allow me and my associate counsel the opportunity to tell you all about our team of experts (including licensed appraisers, environmental engineers, land planners, general contractors, and DOT consultants).

I handle Eminent Domain cases on a contingency fee basis. I charge a fee upon only whatever monies I am able to secure for you in excess of the State's initial offer. If I cannot secure compensation for you in excess of the State's initial offer, you pay me nothing.