Michael Davenport | Wilmington NC Attorney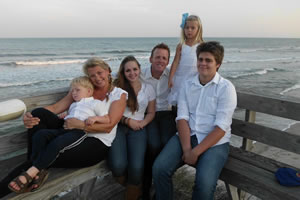 Michael Stuart Davenport, Esq., was born in Stutgardt Germany in 1965, with his father, George's overseas US Army duties next leaving the family in Fort Jackson, South Carolina, during George's tour in Southeast Asia, and with his father's subsequent civil engineering duties then taking the family to Pennsylvania, California, and – ultimately – Wisconsin. Michael graduated from Our Lady of Premontre High School in Green Bay, Wisconsin in 1983, then earned an unusual Bachelor of Science degree, in English Literature (with a minor in American History), from the University of Wisconsin at Madison in 1987.

Michael then attended law school at Southwestern University School of Law (Los Angeles, California), as a Paul Wildman Scholarship Recipient and a member of its Dean's List. Michael received his Juris Doctor in 1991, and spent the next five years practicing law in Beverly Hills, California, as sole litigation associate to 1996's California Lawyer of the Year Award recipient, Gregory A. Yates. Michael then braved the North and South Carolina Bar Exams, and relocated his legal practice and family to the more spacious confines of the Carolinas, spending the next three years at Kaufman & Green, L.L.P., a small, prestigious commercial law firm in Wilmington, North Carolina. Michael founded the Law Office of Michael Davenport, PC, in 1999, and so began his personal crusade, waging war on behalf of Davids everywhere.


Michael and his wife, Jill, son, Brendan (22), daughter, Maggie (20), daughter, Eva Grayson (6), and son, Michael Stone (4), live in Kure Beach, North Carolina.

Community Involvement:
Founding Board of Director – Island Montessori Charter School (2012 to present)
Founding Board of Director – Island Montessori Children's School (2012 to present)
President, Board of Directors - Kure Dunes Homeowners Association (2006 to present)
Member, Advisory Board – First Fruit Ministry (2010 to present)
Appellate Opinions:

Published:

South Carolina – Auto-Owners Ins. Co. v. Hamin, 368 S.C. 536, 629 S.E.2d 683 (Ct. App. 2006)

Unpublished:

California – Orleatha Thomas, et al. v. City of Los Angeles, et al., California Court of Appeals, Second Appellate District, Division Four, Case No. B095514 (Ct. App. 1996)

North Carolina – Huckabee v. United Carolina Bank, 132 N.C. App. 396; S.E.2d (Ct. App. 1999)